IECC enters Grand final of KCL  2016
Match report by P.Kale
Match Report
In the final league game against Samurai, the Engineers played like an wounded tigers  which helped IECC moved to 2nd position in league table.In the semi-final match played on 30th Oct 2016, Engineers ensured that it was the Tigers who left wounded at the end.
       For this important game, Umpires needed to be neutral and good and desperate search was on. Finally on Friday night, Mihindu gracefully accepted the request. Regular captain Vinay was back in town and he put up one of the strongest 11 so far of the season.  He created special comm. group to discuss, motivate and make sure everybody arrives at ground on Sunday morning. 5 team members (Vinay, Raman, Rajneesh, Prashant Kumar, Saif) joined Pavethy from Akihabara. Rest 5 by train. Prashant Kumar, Raman, Devendra reached Tatebayashi on time at 8.30am and duly headed towards ground! (Well done guys). Prashant Kale & Manu being culprit of catching wrong trains arrived 9:00 am at station Shared taxi with ITCC guys to arrive at ground.
     Lot of spectators were expected for this game to cheer IECC however at the end we had only 2 ie. Biju Paul (IECC president) and Prakash Jayara arrived on the ground to support the team
Toss: ITCC Captain won the toss and Chose to bat first. It was decided to have 35 over match.
1st Innings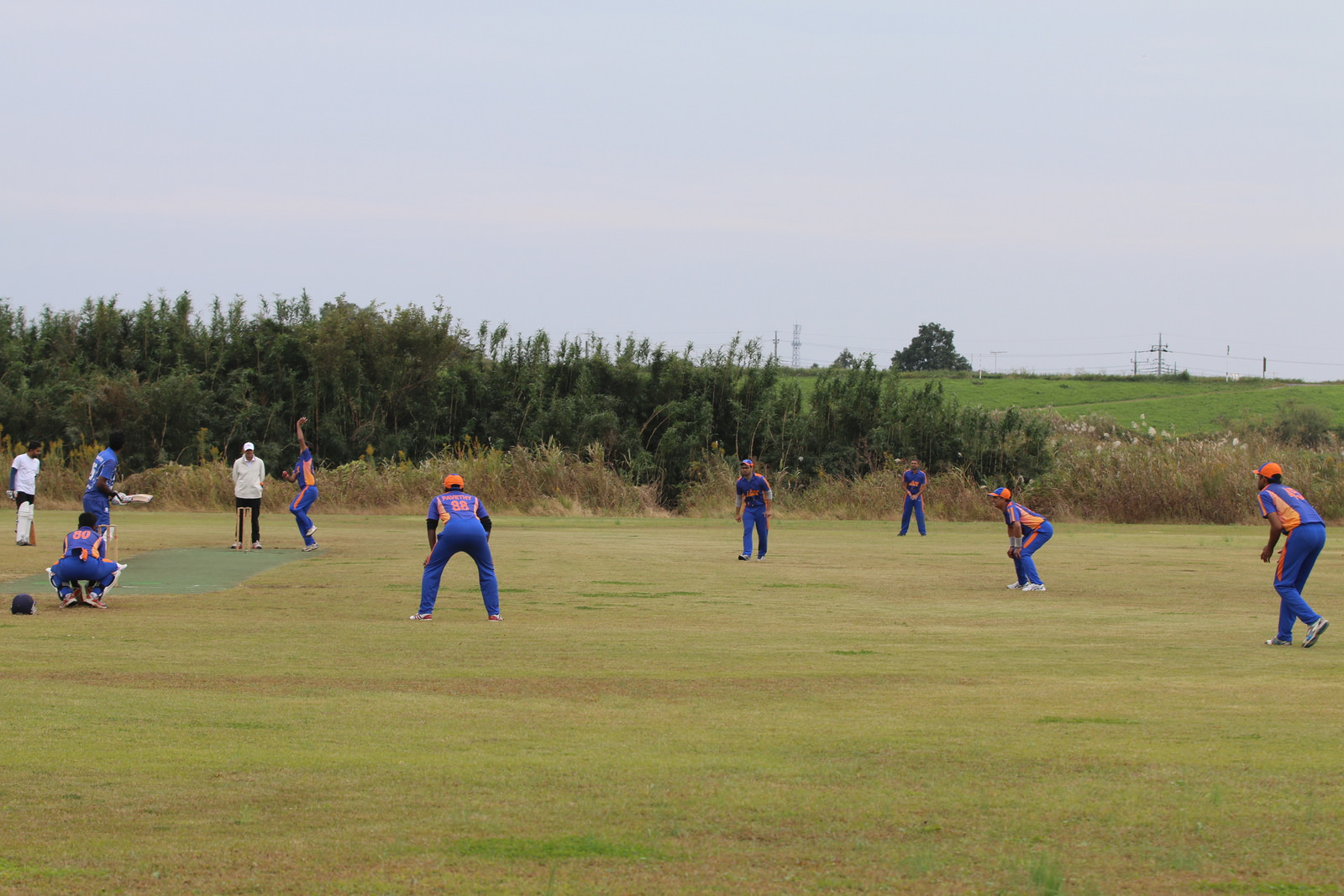 A small pep talk and Opening bowlers Rajneesh and Devendra were ready to roll their arms. Both bowlers maintained tight line and length. In 3rd over, Rajneesh provided first breakthrough. Opening batsman tried to clear mid-off fielder Manu but could not do so.  ct. Manu b. Rajneesh is by far is the most familiar entry in score sheet this season. At the other end, Devendra's (left arm off spin) pacey spin was relatively quicker than genuine medium pace of Rajneesh. His tight lines with good pace and bounce were too difficult to handle for ITCC batsmen. First few overs, Prashant Kumar behind the stumps & slip cordon had to weather lot of inside, outside edges, missed stumping (did I say that!). Devendra wkt meter as usual was not ticking.
       At the end of first power play, scoreboard read 7 runs 1wkt 7overs. Rajneesh produced another breakthrough 2nd  wkt when batsman tried breaking shackles Devendra tried a slower one which turned and bounced and edge was neatly taken by Pavethy at first slip earning him his first wicket and 3rd wkt for team.. It was well taken by Devendra. Vinay replaced Devendra and continue to put pressure on batsman.  Rajneesh bowled 6 overs in his first spell with excellent figures of 6-0-10-2.  Prashant Kale replaced Rajneesh and trapped batsman plumb in front to give IECC its 4th wkt . His 2nd over was wkt maiden a catch well judged by Abdul at Long on .ITCC 5 down for not many  As 5th wkt partnership started to develop for ITCC, Accurate throw from Vinay and glove work by Prashant Kumar found batsman short of crease 6down. Raman Replaced Prashant  and he continued to apply pressure backed up by some excellent fielding and catching in outfield. Vinay changed bowling ends from River side with Raman and bowling from Sano end (Yes we have name for the bowling ends. He gave more flight and less pace on ball and batsman went after it. Batsman missed straight one and ITCC lost 7th wkt. 8th wkt was catch at long on taken by P. Kale .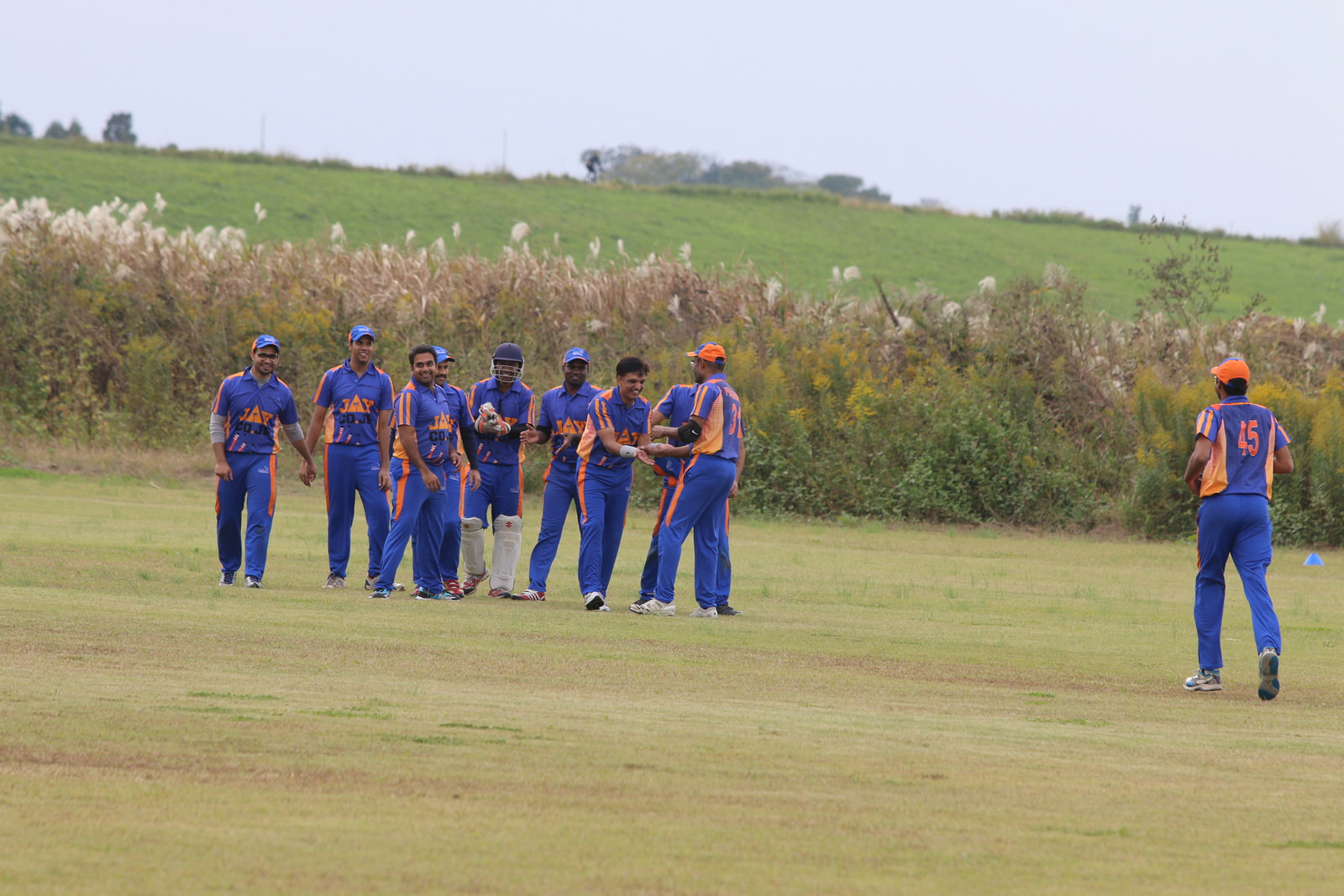 When Abdul is on the field , you will be able to see spectacular dives,  one-handed diving catches and that's how Vinay got his third and 9thwkt of ITCC. Excellent catch at covers and the whole team was on him like someone scored a Goal in World cup final. !  Patient Raman maintained his line and length and finally when batsman decided to go after him only to find a fielder Himanshu at mid –off. Finally, ITCC were bundled out for 67 runs in 24 overs. This was possible due to good execution of lines by bowlers and excellent fielding in the outfield by all team members. "Catching" remains a lot to be deserved.
Rajneesh 6 – 0 – 10 -2
Devendra 7 – 1 – 9 – 1
Vinay    5 – 0 – 14 – 3
Kale     3 – 1 – 16 – 2
Raman    4.4 – 1 – 16 – 1
IECC chase
        The opening pair of Prashant Kale & Abdul Sattar was at the crease again to knock off 68 runs. Opening bowler Ranjeet was making ball talk by this clever mixing of In-swing, cross seam and straight seam bowling. Big gap in bat and pad and Abdul missed an in-swinging delivery.  Saif was promoted at no 3 to spend some time in the middle. Except Ranjeet, rest of bowlers were not so impressive. Prashant Kale started Diwali celebration of IECC by dispatching deliveries back past the bowlers and over the outfield.(2×4, 5×6).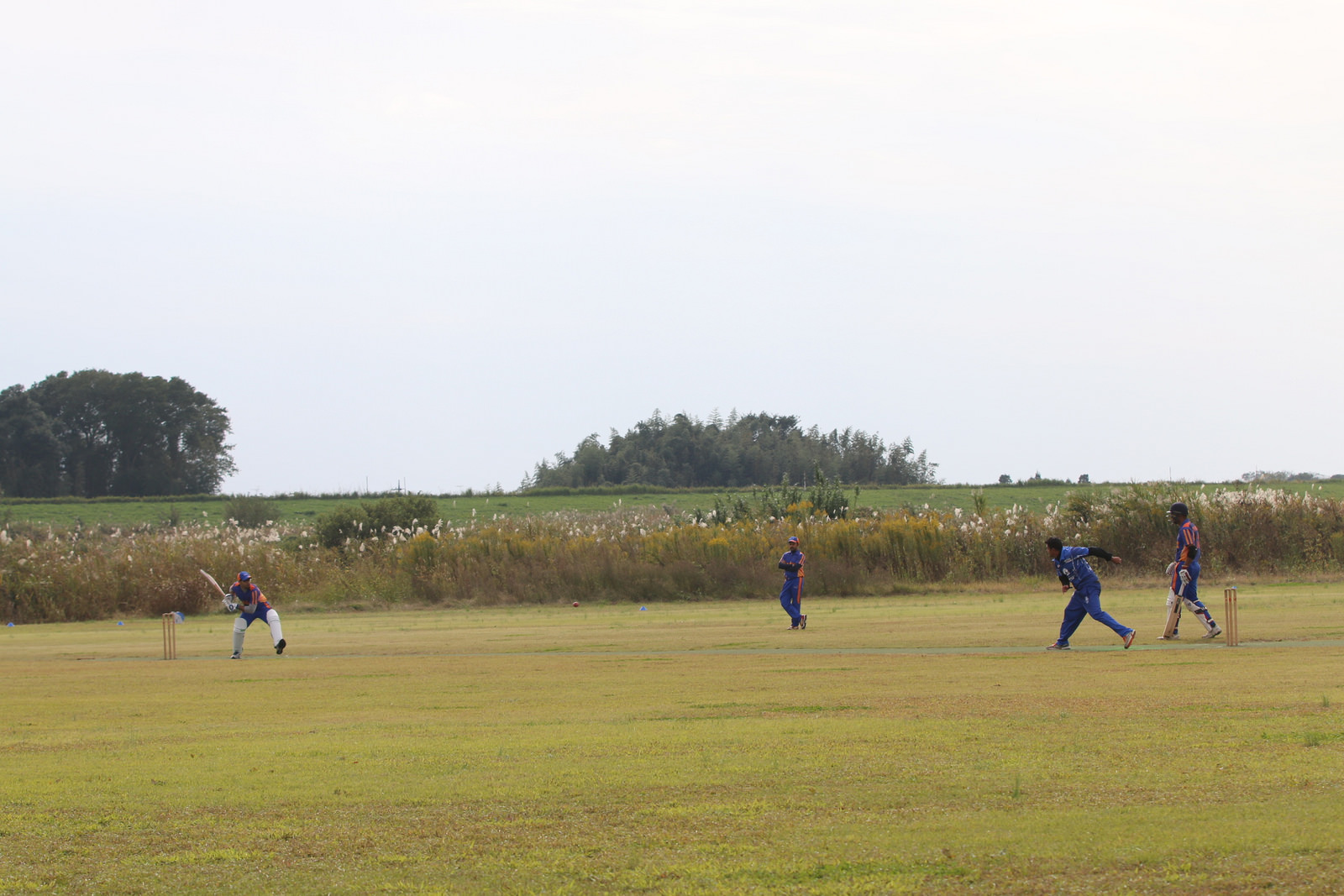 One mistimed drive went over the 2nd slip for 2 runs. This particular mention is for the critics : ) .  At the other end, Saif started nervously. He has been victim of playing too many shots at the start and giving his wkt away. He soon gained in confidence when instructed to play only in "V". Good straight drives for 1&2s came often and that made a good viewing for all members. Most importantly it was confidence boosting for himself to understand how to build an innings without risks at the start of the innings.
Drama of the day
6 to win and 6 to complete 50 for this writer.
     Yours truly tried to finish it with six but did not time it well & as the ball was heading towards cow corner rope, long on fielder ran almost 20 meters to his left to complete a good catch but instead of stopping inside the field of play, he ran a step further & went over the rope. Well.. this writer & team couldn't be happier to get a confidence boosting 50 in the semifinal.
Target was well achieved in 10 overs. IECC won this game convincingly by 9 wkts and 15 overs to spare to enter the Grand FINAL OF KCL 2016. Game finished at 1:30 pm almost 2 hours earlier than usual.
Barbeque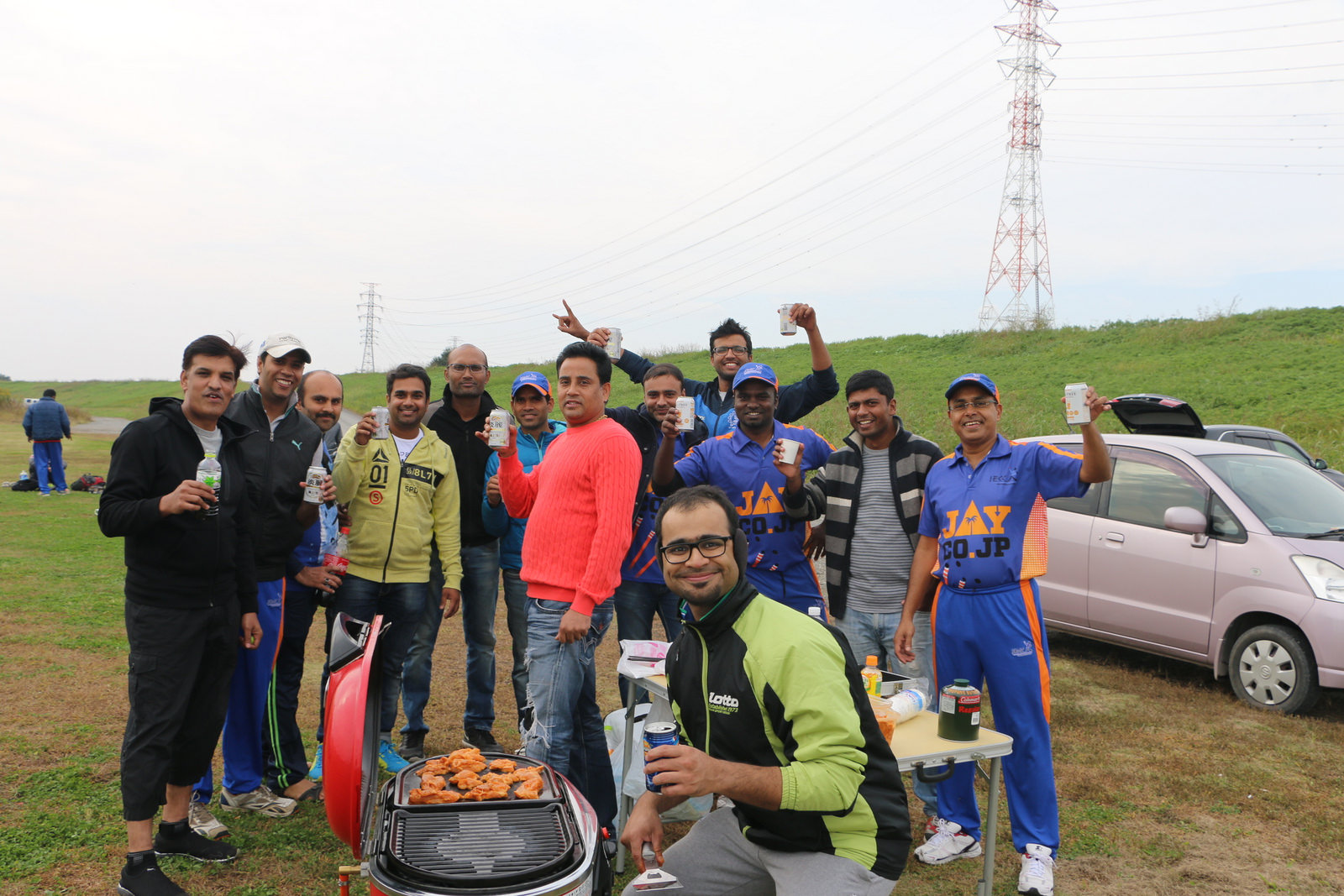 Meanwhile, at Lunch time, Rajneesh and Prakash were out and arrived exactly at the end of the match (after 1 hr or so) . As soon as match finished Prakash set up the barbeque in a flash. .X5 tailgate was open to make a nice podium to enjoy barbeque. Raman wanted to stay a bit longer and this writer, Devendra, Manu agreed to stay for 30 min and then leave… Once the beer can got opened, everybody forgot about the time and train.
Writer also vividly remembers someone or someone's car was rescued with electric shock/ jump start to bring back to life!
Tennis ball game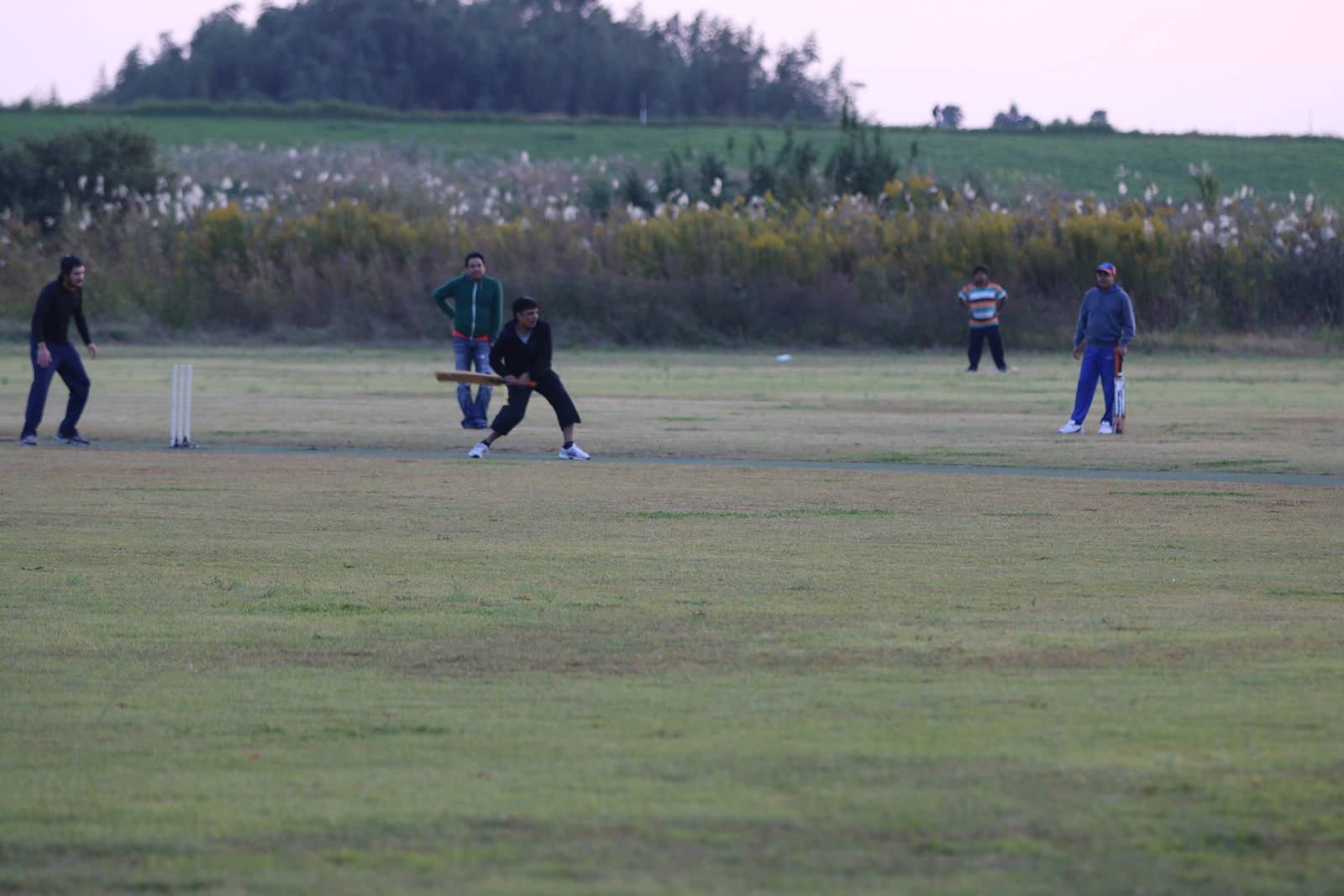 At 3:00 pm some Asian expats were playing taped tennis ball Cricket match and few sober guys decided to challenge. This writer & few other were too busy enjoying barbeque and chat that we were later told that we won that match..
It was good to see that people planned for barbeque but focused on match first. Abdul, Prashant kumar, Manu were electric in the field. Catching still needs a lot of attention. This will be most important factor in Final.
Happy and safe Diwali to all of you.  KCL Final match is also our last match of the season. Let's do our best and end the season on high note.