May 21, 2017 IECC vs. Fuji CC at Edogawa
Report by Bidyut Sarkar
With plenty of sunshine and temperature in high 20's it was a perfect day for cricket. Fuji CC, playing their first match of KCL this season, hoped for a strong start. IECC had a comfortable victory in their first KCL encounter with Serendib (link to match report) and looked forward to continue their unbeaten run across all tournaments this season. The proceeding started as usual(!) with our captain, Vinay losing the toss. It didn't matter in the end as Fuji CC decided to bowl first and IECC got what they desired, to bat first and post a big total.
IECC innings:
Vinay decided to send a new opening combination- left handed Bidyut and the youngest player of IECC, Praveen. Both Bidyut and Praveen had a nervous start against upbeat Fuji CC. But soon they calmed their nerves and got the scoreboard ticking nicely with singles and doubles, and occasional boundaries.  Praveen, playing only his second match for IECC, shacked off a few play and miss with a beautiful drive to the cover fence. Bidyut who had an early reprieve in the first over itself concentrated on singles. These two provided a strong start to IECC and got separated one short of fifty in the ninth over. Praveen (19 of 25 balls) was caught trying to hit Ebisuya. This brought our marquee batsman Prashant Kale to the crease. However, his stay was cut short by a brilliant piece of fielding of a tight single to cover. With IECC deciding to give its new players a go, Dhruv joined Bidyut in the middle. The two kept the score moving until Dhruv  (10 of 13 balls) was LBW in the 15th over (IECC 85/3). Dhruv was followed a Chetak, another newcomer this season, at no 5. Bidyut, who was well set by then, looked to up the ante by hitting a couple of fours and taking the team score past 100 in the 16th over. He looked good for his first half century for IECC but he soon departed for 37 of 46 balls (IECC 104/4).
In came Pavethy, the man in form and the man of the match in previous KCL game. He started from where he left in the last match, carting the ball to all corners of the ground.  After a quick fire 24 of 16 balls (3 x 4, 1x 6) he departed in search of more (IECC 131/5). Chetak and the next batsman Manu played with freedom and scored runs at brisk pace. Just when ICC looked in full control, in came the moment of hara-kiri in the form of three run outs. The first one to go was Manu (17 of 15 balls, IECC 179/6), followed by Chetak (38 of 33 balls, IECC 180/7), and finally Vinay (4, IECC 185/8). Prashant Kumar also departed soon (4, IECC 193/9). From a very commanding position a mini collapse left the last pair Raman and Himanshu with ~8 overs to play. Well, both of them are very capable batsman and they showed it when it mattered for the team. They stitched a 49 run partnership for the final wicket. Raman (28 of 20 balls) got out while trying to hit a big one, while Himanshu remained unbeaten on 10 of 5 balls. IECC bundled out in 37.3 overs but not before posting 242.
After a reasonably good opening partnership IECC scored at good pace despite losing wickets at regular intervals; and the last wicket partnership ensured the series of run outs did not affect IECC too much at the end. With small but significant contributions from several batsmen and a half century from "Mr. Extra" meant IECC had the upper hand at the interval. For Fuji CC Ashfaq bowled a good opening spells, while Lokesh emerged as the most successful bowler (3/22).
Fuji CC innings:
Raman and Prashant Kale shared the new ball for IECC. With a little over run-a ball to chase, Fuji openers began on a positive note with flurry of boundaries. However, IECC got the desired early breakthrough with a clever piece of work from Pavethy (Fuji 26/1). Pavethy, at first slip, noticed that the Fuji batman K Khan was taking his own time to return to the crease after missing a ball. By the time the batsman realized what has happened the stumps were knocked down. Well done Pave! (maybe he got the inspiration from Suresh Raina dismissing Rishav Pant in similar fashion in IPL this year). After the fall of wicket, some brilliant bowling from Raman and Kale completely stalled the run scoring of Fuji CC. The next breakthrough was not far. The no.3, Ungar cut Raman through gully only to see Dhruv taking a stunning diving catch (Fuji 28/2). The third wicket also came through a good piece of fielding. Young Praveen timed his jump to perfection to snap the catch of J. Shearer at cover (Fuji 29/3). The bowler was Raman again.  After bowling a tight spell including a couple of maidens it was reward-time for Kale. He held onto a catch offered by Lokesh of his own bowling (Fuji 42/4).
With Fuji already tottering at 42/4, Chetak found the correct lengths to shatter the visitors any hope for revival. In a fine spell of bowling, he picked up 4 wickets for 27 runs to leave Fuji at 70/9. Vinay took the other wicket to fall in between, but not without a drama! (see moment of the day section). Although already out of the match, the last pair of Fuji, Ebisui and Iwasaki, showed great restraint and delayed the inevitable by 7-8 overs. Finally, IECC keeper Prashant Kumar effected a lighting stumping of the bowling of Vinay to finish thing off. The final bowling figures read Raman (2/20), Kale (1/12), Chetak (4/27), Vinay (2/15), Pavethy (0/8) and Himanshu (0/10). IECC win by a huge margin of 150 runs and with a bonus point.
This was an all-round performance from IECC with many contributing with the bat, disciplined bowling and good fielding and match awareness. Four run outs while batting was only negative point for IECC on the day.
For a strokeful 38 runs with the bat and 4/27 with the ball, Chetak was the KCL and Nirvanam "Man of the Match".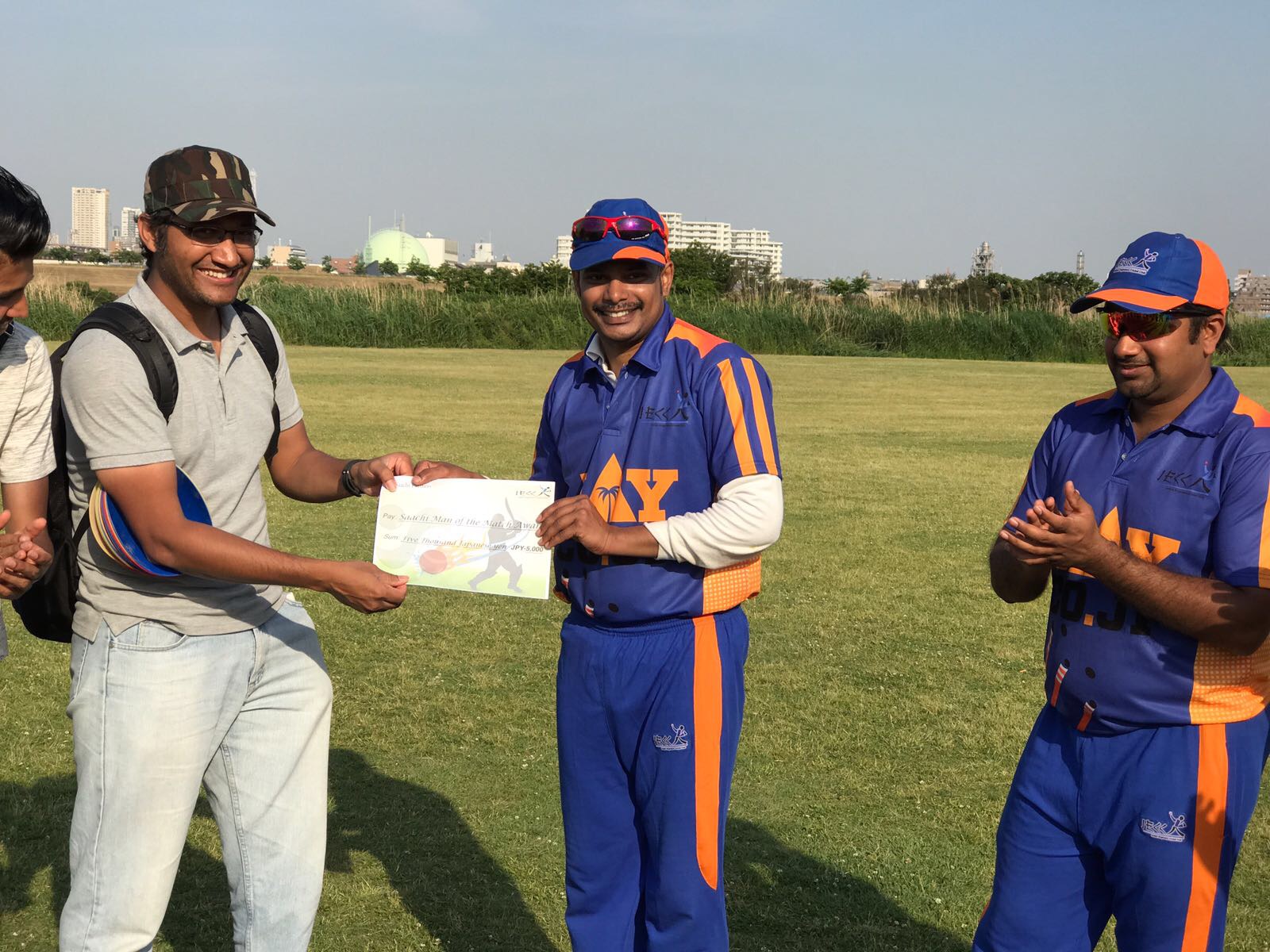 for laying a solid opening foundation with the bat, Bidyut (37 runs) earned Saachi partners "Stylish Player of the Day" award.

Moment of the day:
At the fall of 5th wicket in Fuji innings, Odori joined Shouji. As the common perception goes, two Japanese batsmen at the crease will try to play overs rather than go for big shots. Shouji at the crease was already making the perception stronger. In comes the input from the experienced Prashant Kale, while Vinay marks for bowling to new batsman Odori.
Kale: This is the time to show intensity. The batsmen will try to block and will not give wickets away. We have to find ways to get them. Let's attack more.
Vinay: Loops a driving length ball, and a wild swing of bat disappears the ball into the deep-midwicket boundary for a four.
Vinay and everyone: Stunned! Then burst into laughter J J
Vinay: Sends Kale to the boundary line, where the previous ball went. It was a tactical move although the readers for fun can extrapolate to anything.
Vinay: Next ball, he gives more air in the ball. Now the batsman, aware of the deep fielder defends but the ball lobs up only to fall short of Pavethy at cover. The batsman misses the next faster one.
The conclusion: Vinay bowls another loopy flighted delivery. The batsman caught in two minds, whether to slog (Kale is already manning the boundary) or to defend, finally lobs a simple catch to Pavethy.
Everyone:  Burst into laughter again J J