IECC enter semifinal by strong display of Cricket skills.
Match report by Himashu Bugalia & Pavethy
        On a bright sunny autumn day, IECC were all charged up for their most important game of the season, knowing a win here against the table toppers Samurai would take them into the semi-finals. After reaching the field on time, IECC started warming up under the command of our on and off field practice manager, Kale. Pavethy given the responsibility of captaining the side on a must win game, made it clear that he won't be accepting anything less than victory. Luck always rides with those who take efforts and show their full commitment. After winning the toss, on his debut captaincy Pavethy chose to bat first. As MIB Umpires did not bother to show up, both teams agreed to have own umpires and play the game in best possible sporting spirit.
First Innings:
          Strategy was very clear. "Aggression" and not to give the Samurai's any space to breath. Kale and Abdul, both experienced players opened the batting. They knew the importance of their wicket and were determined to lay good partnership together. As usual Kale the aggressor started to hit a few out of the ground sixes. The ball started getting disappeared again and again; and Samurai bowlers looked clueless to bowl to him. He lost three new balls in a span of four overs. The Samurai players were confused whether to search the lost balls or to bring another new one. At one point they were starting to realise that they too were lost again and were also losing time in searching the lost balls, the two captains spoke about it and reduced the match to 35 overs.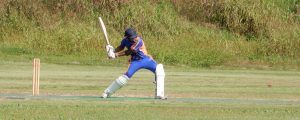 It was decided to use one side of the wicket for rest of inning to avoid ball getting in to dense outfield. The raining sixes news had travelled very fast and it made our President (Biju Paul) rush to the ground and support the team. Abdul on the other end kept rotating the strike, well decorated by some classic boundaries. After putting up a quick and a solid 100 runs partnership in mere 64 balls, Abdul got stumped while trying to hit a lofty shot. Our skipper Pavethy started well by hitting a boundary however he was undone by playing all around to a well-pitched up ball (confused mind!!). After two quick wickets, Prashant Kumar decided to enjoy Kale's classic sixes from the best view point in the ground, from the non-striker's end.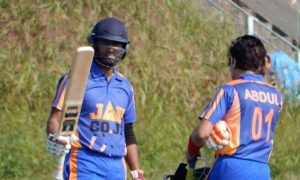 After putting up a 49 runs partnership, 1 less than 50, umpire raised his finger for a strong appeal and disappointed Prashant Kumar had to leave the pitch with a pinch, followed by Devendra Dhaka in quite the same fashion.. Kale had his own set of lucks , nevertheless he reached his century raising his bat proudly to a standing ovation from the team members. He was eventually out on 111. Once looking strong at 167/2, IECC were 172/6. Our late bloomer Vivek took the strike to entertain the crowd with couple of boundaries, with one spectacular cover drive in it. Raman and Vivek tried their best to slow down the wicket flow, however, IECC were stubborn enough to reach 204/9 with 22 balls in hand. Samurai were almost getting ready to have their lunch but IECC was not in the mood to give up yet and decided to bat until the last delivery of innings. Last wicket partnership of Rajneesh and Himanshu tried to keep the scorecard moving and put up a small yet quick partnership of 23 runs in 22 balls with one six over the deep mid-wicket boundary in last over by Himanshu. IECC did wag its tail this time and scored 227 in 35 overs.
Second Innings:
After putting up a good total on board, Engineers looked quite in rush to wrap up the Samurais. Starting the attack with Rajneesh and Vivek, our opening pair made Samurai batsmen to struggle very hard for runs and to rotate the strike. The gamble taken by the skipper in making the last minute changes within playing XI finally paid off. Vivek succeeded in dismissing Hanif with a fast & furious peach of a delivery rising from good length, hitting the batsmen's glove leaving him awestruck. It was quick and was wonderfully collected by Prashant kumar behind the wickets at chest height. Supun (Captain of Samurai and their most important batsman) walked in next. He cut Vivek for a boundary at point region. Everyone knew him as an aggressive batsman. But the next delivery Vivek rattled his stumps with a bouncy top of off-stump in-swinging delivery.
     Samurai were left in totters to make any sort of comeback. Vivek looked like he was bowling on Gabba pitch and not in Sano. IECC showed full commitment in the field to support their bowlers and made sure that not a single loose run was given away. Rajneesh on the other end was bowling tight lines but was not lucky to get any wickets. Saif in the 30 yards circle and Suresh on the boundary showed the full commitment and put extra efforts in the field. Adding to it, Dhaka aka "The Osaka Express" quite disappointed by his own bowling with which everyone else was amazed and Samurai batsmen could only play him like a headless chicken, he took a spectacular catch on Kale's delivery.
         Any words would be short in front of the jump he took at boundary and made sure to stay in the boundaries to take an unbelievable catch. Quite distressed by the IECC performance, Samurai batsmen were trying to come up with a good partnership. Raman was bowling good line and length deliveries with the old ball. But the Samurai batsmen were not taking any risks, hence no wickets. Pavethy decided to bowl some off-spinners with a set left handed batsmen in the crease. Soon the gamble worked out as he tried to hit a loose ball to heave but only managed to see Abdul who took a spectacular running catch by fielding at leg slip; he took the catch running backward. Raman soon added insult to injury by taking Talha on duck. Pavethy, made sure to get even with his poor luck in batting by taking 3 wickets.
     Spin seemed to be Samurai's weak point. The Osaka Express finally got off from the poor luck to take Ishira who was looking settled at pitch but was leaking some runs behind the wicket because of his quick deliveries. Then the skipper just couldn't wait and got our tail end specialist Saif to clear up the rest of the two wickets. IECC bowled out Samurai for 134 runs within 24 overs to clinch the most needed victory and made sure they qualified for the semi-finals. They will meet arch-rival's Indian Tigers in the semi-finals coming Sunday. Definitely going to be a ripper of a match with some blasts seen during this high-octane Diwali season match.
Scorecard highlights:   
Indian Engineers CC: 227/10 (35 overs) – P Kale 111, Asantha 3/24, Thilina 3/31
Samurai CC: 134/10 (23.1 overs) – Pavethy 3/14.
[FAG id=4125]