KCL'2017 GRAND FINALE
Hello Everyone, This is Vinay Mohan Iyer, the Skipper of IECC and your author for the Day.  It was long wait for IECC between semis and final; almost 1.5 months and that too the big one of all, the GRAND FINALS of KCL 2017.
Once again, it was a rematch between IECC vs defending champion SAMURAI for 3rd time in a row. Engineers were desperate to break the jinx of losing the previous two finals to them. This time the challenge was bigger as we were playing on home turf of Samurai, ASHIKAGA ground for the first time..
Just 2 days before the FINAL, venue was changed from Edogawa to Ashikaga. IECC agreed for the new venue for the finals (too generous!). Lot of assumptions were playing out in my mind. It was difficult to choose Final XI. Thanks to Vivek & Himanshu who agreed to come and play though having other commitments.
Team of the day 
1.  Vinay(C)
2.  Prashant Kale(wk)
3.  Rajneesh
4.  Pavethy
5.  Raman
6.  Saif
7.  Praveen
8.  Abdul
9.  Vivek
10. Adrit
11. Himanshu
All drama began when IECC players, travelling in parts managed to find this untraceable ground and found the flex mat laid on to the dry patch of Baseball pitch and that too in a completely awkward direction. Within no time Samurai set the "short" boundaries and pitch nailed but our dentist "Pavethy" who is also KCL Committee member was in no mood to play in these conditions and asked the Skipper to call the game off and postpone it to the next weekend. It looked difficult as we knew if this was done; the Final would never take place & it was general consensus from players to play the game. Our veteran Rajneesh discussed with Samurai and made sure boundary line were moved out at-least by 10 yards.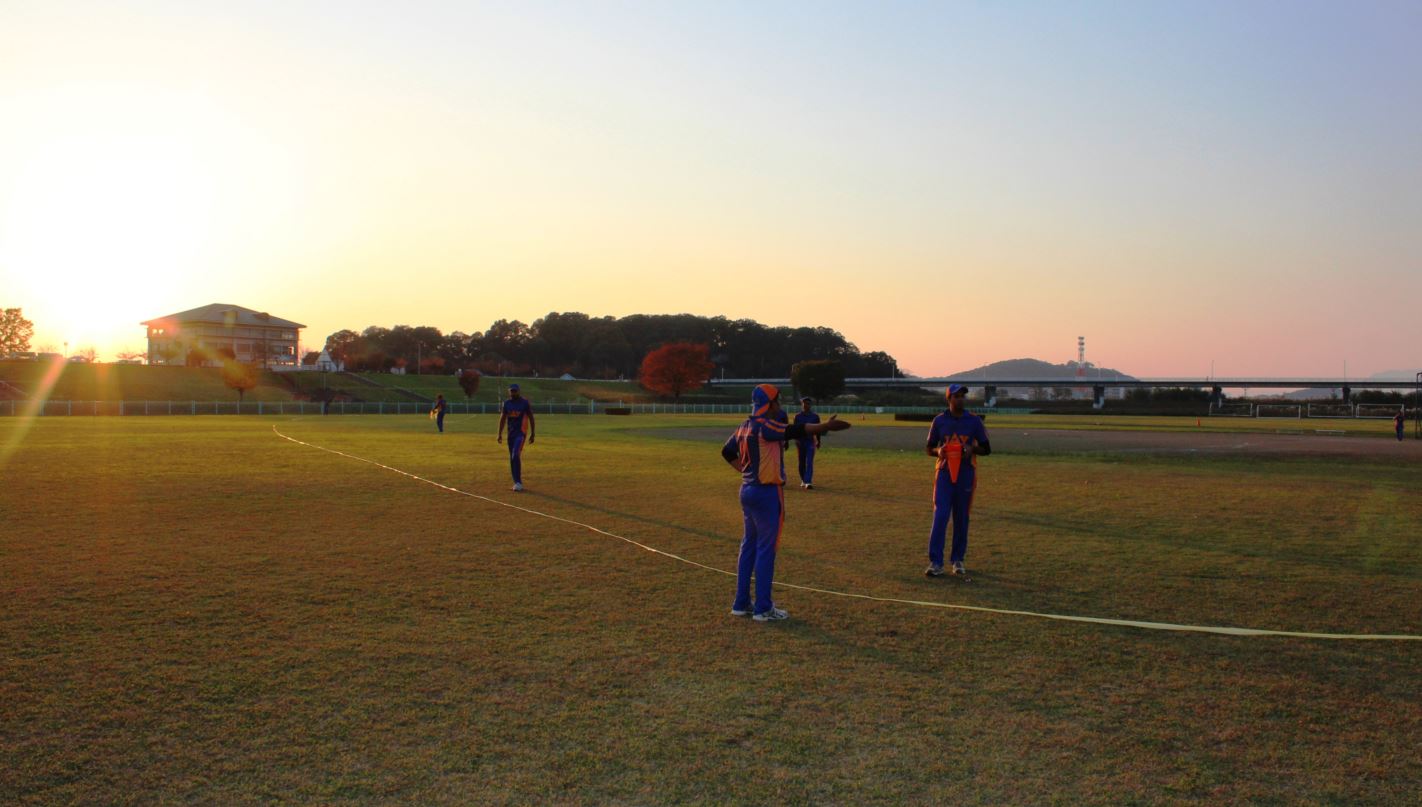 40 over game never looked on cards. So it was decided to have 30 over game. I losing the toss was nothing new but Samurai asking IECC to bat first was a shocker. It was may be due to fact that Samurai chased well in the Semi finals. 150 runs at least was the initial target during the team meeting. Looking at the small boundaries and the Samurai batting Line-up, all believed  200 runs is needed.
The "A" Couple (Adrit & Abdul) started off the Innings. They stood to their task to see off the new ball making the Samurai desperate for early wickets. Samurai soon brought Spinners into the attack which worked out and Adrit (6) fell prey trying to up up the run rate. This brought in the Man in form of this season for IECC, Pavethy who took no time to get his eye in and was playing the Samurai attack with ease.A skiddy delivery from Thilana saw Abdul (7) caught right in front wicket . 20/2 and in came the dangerous & most experienced batsman Prashant Kale. He took some time to get his eye in but soon both Prashant & Pave played some fantastic strokes over the boundaries and few maximums too. Samurai were feeling the pressure and continued to leak runs. Against run of play, Kale (11) punched an over pitched delivery from left arm medium pace straight to mid-off. IECC @ 64/3 here, and in came the yours truly after a long break from Cricket, hoping to get in and get the score board ticking. It was difficult to read the dual pace nature. Pavethy was trying to explain me about the pitch and asking to play unusual way. We put on a small partnership before Pavethy (36) was caught leg before and IECC were 100/4 in 21 overs. In came Raman the Ravan for Samurai's. I, Vinay (14), trying to play across the Left hand seamer was struck on legs and was given LBW. The score was 109/5 and Saif was the next man in. Saif and Raman started to build a good partnerships with 1s n 2s. As confidence grew, Raman took the bowlers ON with a few boundaries and a Huge Six. Their partnership soon ended when Saif (6) was bowled by Sankalpa .140/6. Vivek Singh joined in but in the very next over Raman (25) trying to go over long on only managed to find Chula.141/7. Praveen came in to support Vivek as we knew it was Vivek who could get us a par score of 170-175runs and he almost did so. Praveen (2) though sacrificed his wicket and was run out but Himanshu (1*) too supported Vivek (15*) as he blasted two boundaries in the last over and took the Final score to 163/8 in 30overs.
There was 10min break before Samurai begin their chase.Lunch was ordered but it did not arrive on time. I guess it was better for us as it kept us focused on the game. Inning started with IECCs most experienced bowler Rajneesh Shukla and the speedster Vivek Singh. Both gave us a brilliant start with accurate line and length troubling the Samurai openers all the way before Bhanuka the top scorer in KCL this season managed to nick one to the 2nd slip where i did my best  to dive to right and grab this a difficult one. This wicket provided the right momentum that we needed and more so to  Vivek who was all charged up. Rajneesh on the other hand was calm and managed to keep bowling the dot balls. The next ViV over saw the wicket of  Chula who tried play across and was  adjusted LBW. IECC was never looked so electric and charged in finals before. In came Hanif and was playing both Vivek and Rajneesh with ease. Skipper changed the bowling and brought the deadly RAVAN into the attack. He started off with a maiden over.
One over before Drinks break, the skipper decided to get in the Man with the golden arm Pavethy who he believed would get the important breakthrough and he didn't disappoint. The fifth delivery of the over and Hanif tried to send him over the long off boundary but managed it straight into the safe hands of Vivek who would never drop this golden chance. Samurai were 3 down with their best batsmen all into the Pavilion. We decided not to take the Drinks / Lunch break as we had the upper hand on the game and did not want to lose the momentum. Their opener Ali was too kind to agree and proceed with the game and it was no stopping from there on. Raman continued his Golden Spell  for this Grand Finale. He bowled consecutive 3 Maiden overs with the 3rd one bringing the wicket of their lone standing opener Ali & their last hopes. We knew it was all about keeping the momentum and not loosing the grip from here on. Few overs later I decided to bowl my off spin and continue to apply the pressure. It was good bowling partnership with Raman to dry up the scores completely with the help of our Cheetah's (Saif/Himanshu/Abdul/Adrit) covering the field and not allowing the batsman to take a Single.
The task for the Defending Champions Samurai looked impossible from here. IECC were just playing with the Samurai batsman. Another player who was taking a lot of beating for IECC himself was the man behind the Stumps, Prashant Kale. We saw it from 1st over  that he saved 20-30runs on wicket which had  a lot of uneven bounces. A lot of credit goes to him too. It was matter of time and Vinay started running through the middle order and the Samurai Tail started to shake. Pavethy & Vinay finished off their spells and it was the last 4 overs left between the 3 fast bowlers with just 1 wicket left and 60odd runs to get. Raman in the 28th over completed the proceedings by knocking off the stumps of the last Samurai Batsman as they were bundled out for mere 106Runs.
IECC gathered in to break their winning Slogan "AAJ….. JEET GAYEEEE"
The bowlers did an excellent job.
Rajneesh Shukla    5 – 0 – 23 – 0
Vivek Singh            5 – 0 – 29 – 2
Raman Tanwar       5.2 – 3 – 6 – 3
Pavethy                  6 – 0 – 27 – 1
Vinay Iyer*              6 – 1 – 12 – 4
Raman with an All-round performance (25Runs & 3 wickets) was awarded the KCL Man of the Match & Vinay (14Runs, 4Wickets & 1Catch) was awarded the Saachi Man of the Match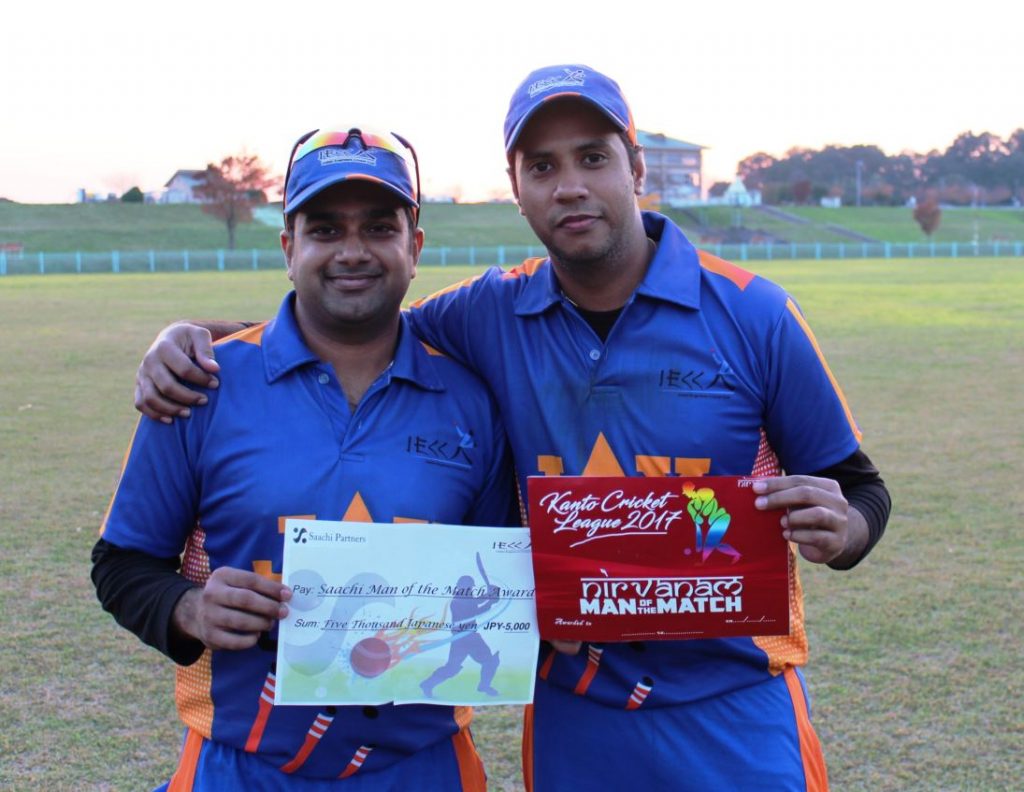 IECC are now THE KCL CHAMPIONS of 2017 . Do join us for the IECC Awards later this month.
Thank you all for joining us this Season. This is your Captain signing off for now. Cheers!!!!
Relive the Match here