Welcome to the Oldest Indian Cricket Club in Japan. We are a motley crew of Indian engineers employed in Tokyo, Japan for the past few years. Cricket has always been a passion for all of us and for the bachelors among us Cricket is the first love (girlfriends come only second!). We have been playing cricket since 1995 in Tokyo. In 1996, some of us got a wild dream that we should form a team and there formed a team called "Indian Engineers' Cricket Club" in 1997 January. When we started, we didn't know what and how it would be like playing cricket in Japan. We had only one set of kit to start with. That is two pairs of pads, two tennis ball bats, one set of stumps, two pairs of batting gloves, no helmets and only 12 guys as members. And we survived a year with that!
We practised in a small baseball ground and used to pride that we are the first cricket playing community in Japan! We used only Tennis balls for practice mainly because some of the members were afraid of playing with the hard leather ball… But slowly and steadily we came to know of the existence of other clubs, grounds and Kanto Cup etc. When we switched to major league level and leather balls, many of the mates dropped out fearing their safety. Since then we have been growing. This website came up in 1998, membership has increased and now for almost all matches, we have a selection crisis!
To cite an example, in the first match we played in 1997 against Friends XI we were all out for 51 in 15 overs! The opponent had scored 200+ runs in 30 overs. Incidentally, they were(and probably, still are) the strongest team in Tokyo. Baptism by fire, so to speak. In the last match we played in the same year, we scored 178 for 9 in 40 overs. Oh boy! just look at the difference. We have played many matches, lost many and won a few. But that's OK guys, after all, someone has to lose for someone else to win!. We indeed believe that we performed well in all our matches and we keep improving match after match.
On June 10, 2001, the classy Sriram Sampath, scored his maiden century, which was also the first by any of our members. On Nov25 the same year, Viswa Ghosh scored an unbeaten 147 against the British Embassy. The same match also saw us posting our highest ever total(322 off 35 overs) against any opposition.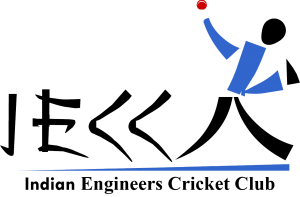 Year of Establishment: 1997 Type: Amateur Cricket  Club Location: Tokyo, Japan
President: Biju Paul
Club Captain: Basava Manu
Vice-captain: Prashant Kale
A.Vice-captain: Ashok Kumar
Treasurer: Amit Jain
Key moments in Club history
Successfully defended a paltry total of 47 against the British Embassy in the erstwhile Kanto Cup league match
Won the first Pacific Cup(2-1) in the year 2000, a three-match series between the Shizuoka Kytes and us started in 2000
Started the first-ever Cricket Newsletter in Japan in March, 2000
Scored the highest aggregate runs – 950 runs for the loss of 50 wickets – in the league matches of KCL in 2001
Qualified for Division I of Kanto Cricket League in 2001
Won the 6 team Japan Gold Cup in 2002
Started the first-ever Japan Cricket Rating System in July 2005
Signed a sponsorship deal with HumTum TV in July 2005
Signed a sponsorship deal with Jay Enterprises, Limited  in July 2015
Signed a sponsorship deal with Saachi Partners  in 2017
Q.Do I have to be an engineer to become a member?
A.No, if you have played or playing cricket at school, college or any level, you are welcome! We have a lot of non-engineers in our club.
Q: Why do you have the name Indian Engineers?
A: The club was originally started by a group of Indian IT engineers and at that time we thought it was a great name and we still do!
Q: What are the things expected of a member?
Regular members are:
required to pay a one-time registration fee and the annual subscription fee. These amounts may be revised at appropriate times by the IECC Governing Committee.
expected to attend the practice sessions regularly.
expected to make themselves available for most of the matches in a season.
expected to notify the captain or Secretary if and when they become unavailable or unreachable for a longer duration (like going on vacation etc.). (in the above case)notify the Captain or Secretary if and when they become available.
expected to obey the captain's decisions on the field
expected to do Umpiring duty at least once in a season as required
expected to do scoring sometimes when not fielding or batting
allowed to use club equipment's for matches as well as their personal skill development
Q: I'm only here in Japan for a short term and I want to play cricket. Is it possible?
A: Certainly. Please input details on contact us page or please call us.
Q: Is there a jersey for the club?
A: Yes we have a team jersey and cap. Upon joining the club as a member, you will be given the jersey free of cost, thanks to our sponsors. All members are required to wear the jersey during all matches.
Q: How is Playing Eleven selected?
A: There are no rigid rules or regulations applied in team selection. As a general guideline, however, while selecting a team for a match, priority is accorded to the attendance in practice sessions, Cricketing skills, season performance, fitness, team balance, adherence to "Spirit of Game" and previous behavior on filed, Seniority in the club Team. By and large, the order of priority remains the same but is NOT always a guaranteed criterion for selection. The team will be chosen as deemed fit by the Selection Committee
Q: Who is part of the Selection Committee?
A: Selection Committee comprises captain, vice-captain and the president
Q: What can members expect of the club?
A: The club will make all efforts to ensure that: all members are treated fairly and equally all members can use the club equipment such as the bats, pads etc. on the filed. Basically, you do not need to possess any individual kit to play a match all members get a fair amount of competitive matches to play