In Cricket, recording the live cricket scores is an important craft. It requires concentration, keeping eye on every ball, Umpire signal and record them in score sheet.
For all content mentioned below, credit goes to New Zealand cricket Umpires and scorers association. This information is for education purpose and non commercial use .
Preparation before match
1.  Score book or score sheet 2 copies ,  2.  Clipboard to keep in place loose score sheets,  3.  Pen, Pencil, eraser and sharpener, 4.  coloured pen (optional),  5.  Notepad ( to make note for umpires), 6.  Competition Rule book 
On the day of the Match 
1.  Desk and chair suitable for scoring, 2. Shelter from the sun/ wind / rain if scoring outdoors, 3. Team line up  , 4.  Watch to record inning start/end, batsman in, out time.
Score sheet
A typical cricket score sheet is shown below. There are different versions with more contents however basic information  will remain same. For better clarity, lets divide below score sheet into 7 categories.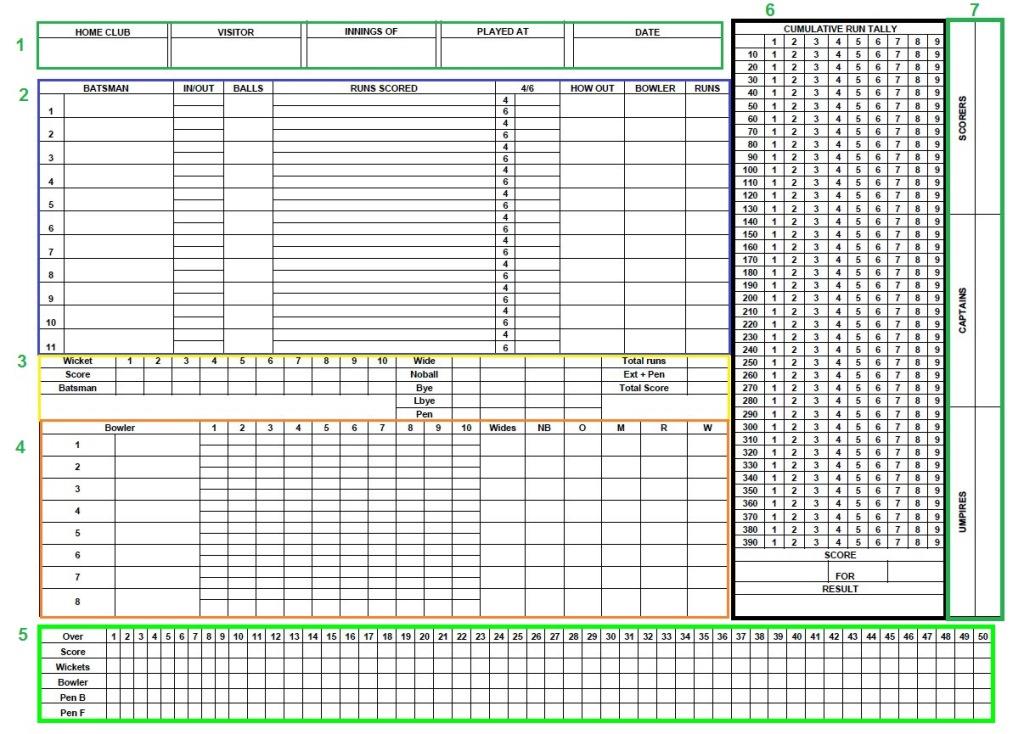 Match Information:

 Please input  competition Name,  Date,  venue,  Home and away Team, overs, Umpire Names, Captain Names in the sheet

Batting Line up:

 Input name of batsman as per batting order.

Wickets /  Extras columns / Total runs column:

   
Bowling details:  To be filled in for every ball bowled.
Overs and runs: To be filled in after completion of each over.

Runs scored column:

 Mark for every run scored

Sign off :

Take sign of Umpires , captains and scorers to approve the score sheet at the end of the match.
Umpiring signals and Score sheet input scenarios are shown below. 

Input scenarios : Data Record Locations
Dot ball:  2 locations :  Fill in category 2 & 4, [respective Batsman &  Bowlers column]
Run scored:  3 locations : Fill in category 2 & 4, & 6  [ respective Batsman, Bowler and Total Score ]
Over completion: 1 location : Fill in category 5
Wicket: 3 locations: Fill in category 2, 3 & 4
I hope above information is clear to input details in the score sheet.